Searchplugin for FireFox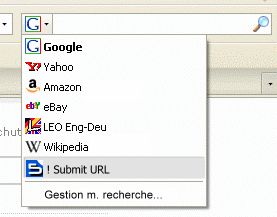 With our plugin it is possible to search your favourite websites directly out of the firefox search. So you are able to have your bookmarks "at home". Just install our searchplugin for the mozilla firefox browser to search your and other bookmarks without visiting our website at first.
There will be no better way to manage your favourite websites. Installation and usage of our plugin is free of course.
Install firefox plugin now
Integrate our bookmark-logo in your homepage.
Click here and follow the instructions!
Bookmark this website
Memberarea